---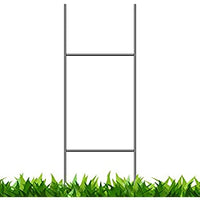 *H stakes must be purchased with yard signs and are not for individual resale.*
10" H Stake

Wire step stakes used for yard signs.
9 gauge zinc-plated steel construction.
Inserts into vertical flutes on sign.
Use with 4mm corrugated plastic.
Works best with 24in x 18in and smaller signs.
Bulk quantities of 50, 500, 1000, 2500

RETURN POLICY
    
Return for credit:
Although we continually strive to meet our clients' expectations for high quality, there are times when it becomes necessary to resolve issues that arise.  Occasionally the quality provided falls short of the customer's expectations.  If and when this occurs, we stand behind our products.  We will credit parts that are defective and have been returned within 30 days.  A determination will be made, based on an agreement with the client, as to whether the parts are replaced on a new order.