---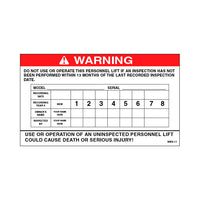 PART: NWD-011

** Customized art requires a one time art set up charge of $50.00 **
Must contact us and also supply logos and information before job is completed.

SIZE: 3.75 inches x 6.5 inches

MATERIAL: White Vinyl
Color: Black / Red

• High performance vinyl, with screen printed colors for outdoor durability.
• High tack acrylic adhesive adhere to any flat surface.
• Decal construction resists abrasion and cleaning chemicals.
• Decals can be customized with Customer logo and contact information.
Comes in a packages of 125, 250, and 500

RETURN POLICY
    
Return for credit:
Although we continually strive to meet our clients' expectations for high quality, there are times when it becomes necessary to resolve issues that arise.  Occasionally the quality provided falls short of the customer's expectations.  If and when this occurs, we stand behind our products.  We will credit parts that are defective and have been returned within 30 days.  A determination will be made, based on an agreement with the client, as to whether the parts are replaced on a new order.